Plumbing drains, water pipes, electric wires, and heating ducts are some of the obstructions hung below the beam that you may have to deal with when doing basement renovation. Although basement finishing around these things can be challenging, renovating the basement to create a living space and look good is a great way to add value to your property.
If you are thinking of low ceiling basement renovation, suspended ceilings are regarded as the most popular option since It is designed from lightweight panels and a simple grid. Some of the options may include Armstrong ceilings that feature grids that have either wood or metal options for decoration or Metallaire ceiling panels that are designed from real metal.
However, to renovate your house, you will need a professional and reputable basement renovation service provider in Toronto to handle the project. aMaximum Construction is the leading service provider in the area offering affordable tested varieties of low ceiling basement solutions that can help make your basement room look comfortable and big. Conditioning on the subject, in this blog, we take a look at tips to remodel your basement with a low ceiling.
Apply Strategic Basement Lighting
For lighting solutions on low ceilings basement renovation, you might consider applying natural and strategic basement lighting since they are realistic and simple. Your professional builders must plan and design the installation of spotlights or wall lights in the basement. If properly done, this may result in enlarging the room's appearance. Also, you can consider using LED light strips as they are a decent option for a long way.
Horizontal Decorating
During low ceiling basement renovation, your professional builders should consider horizontal decorations and objects. This helps to prevent the overcrowded look of low ceilings. Avoid using an overhead light and go for a scones arrangement of main lights around the wall of the middle room. Make sure your contractors will make use of accent lighting, wide landscape paintings, and wallpaper that feature horizontal stripes as it can make the ceiling seem less cramped.
Wood Paneling
Also, for low ceiling basement renovation, consider using wooden paneling. This is because the premium wooden floors can offer a classic and elegant look to the basement. While there are different types of finishes and styles available, using wood panels is beneficial as it offers the ability to attach panels to support beams directly resulting in minimal height degradation. At the same time, there is also a wide range of design options for the basement that create a good feel.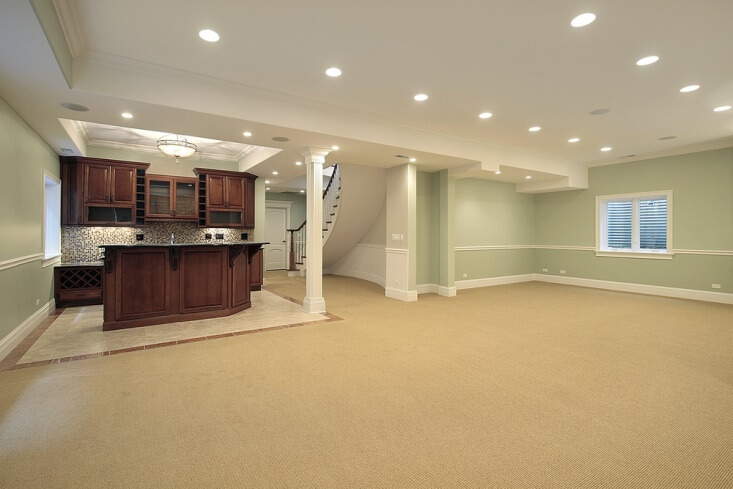 Color and Furniture
Although there are many colors to choose from, consider white ceilings as they offer a nice illusion that makes the basement room brighter and bigger. Any lighter shade you pick can improve the space to offer even more height and increase the brightness of the room. Also, when choosing the furniture, consider smaller couches, cabinetry, and chairs rather than standard furniture that might look big. This will create a lot of space in your basement.
lastly
The above-listed are some of the tips that can be helpful when you are planning for low ceiling basement renovation. It is important to make sure that you consult a reputable basement renovation company in Toronto such as aMaximum Construction to get a high-standard floor and wall basement renovation. In Toronto, we are one of the best and we are ready to serve residents of Toronto. Call us at 437 999 3782 or email us at care@amaximumconstruction.com for more information or to schedule an appointment.