Welcome To aMaximum Construction
Affordable Interlock Paving Contractor in Aurora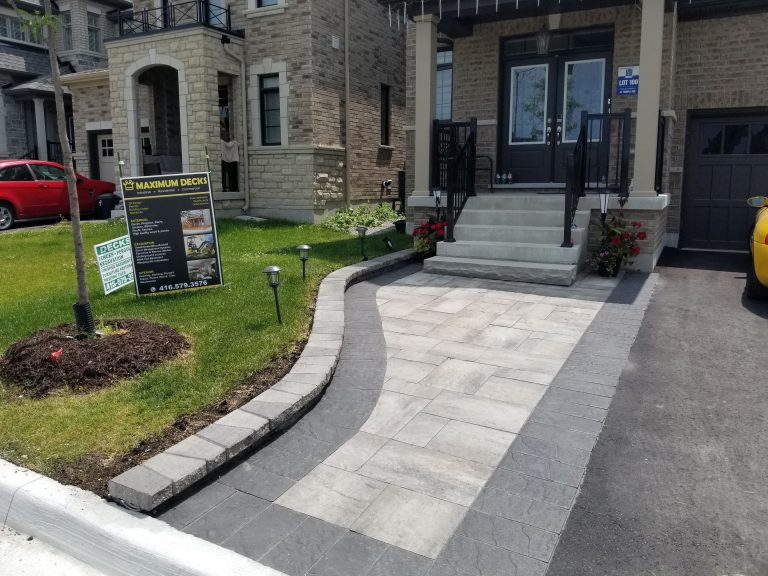 Affordable Interlock Paving Contractor in Aurora
Are you searching for an interlock paving contractor in Aurora? aMaximum Construction has been proudly serving the area of Aurora for years. Our main goal is customer satisfaction, and this is why we make sure that we have quality craftsmanship that provides hard work in all our projects. Our interlock paving services are sure to meet clients' needs. We specialize in interlock paving, concrete, and more. aMaximum Construction serves both commercial and residential, and we are skilled in any project, whether big or small. If you are looking for a new driveway or repair services, give aMaximum Construction a call today, and we will make sure that the job is done!
Driveway Interlock Paving Contractor in Aurora
For homeowners looking for an interlocking driveway paving company that can last for many years and improve curb appeal to their home, look no further than aMaximum Construction. We offer professional driveway interlocking services in Aurora and nearby areas. No job is too big or small for our team of experts, and we always make sure that the work is done to perfection. We use that clients can trust.
Our experienced and professional team will work diligently to ensure your new driveway is exactly what you imagined.
When choosing a paving company for your home's driveway, you want to make sure that you are getting the best possible value for your money. aMaximum Construction offers competitive rates for our driveway interlocking services in Aurora without compromising quality or craftsmanship. 
We believe that everyone deserves a beautiful and functional driveway, so we offer our services at an affordable price. Driveway interlocking is a great way to add value to your home and increase its curb appeal.
Interlock sealer in Aurora
Whether you want to have your driveway interlocking sealed or your patio, we have the right solution. aMaximum Construction offers interlock sealer services in Aurora to protect your investment and keep it looking great for years to come. Our team of experienced professionals will work diligently to ensure that your new sealer is applied correctly and will last for many seasons.
We have been providing quality interlocking driveway paving services for many years now. We are dedicated to meeting the needs of our customers. Our team at aMaximum Construction is passionate about giving you the best possible service. We know that each home is unique. We work with clients to create a driveway that fits their needs and style. While we use the highest quality materials, we ensure that the driveway interlock looks great and lasts for years. Apart from offering interlocking paving services, we also offer professional landscaping services in Aurora!
When you choose aMaximum Construction for interlock paving services in Aurora, you can expect:
A free in-home estimate
Experienced and trained professionals
Affordable rates
Limited warranty on labor
Backyard Interlocking in Aurora
When it comes to backyard interlocking services, Aurora homeowners know that aMaximum Construction is the right guy to call. We are your local interlock paving contractor in Aurora. There are many benefits of getting your backyard interlocked, and one of the common is that it can increase the value of your home. Also, many consider their backyard interlocked because it is a very practical surface to install, and it is an excellent option for children and pets. Interlocking paving services can also be excellent for outdoor entertaining since they are durable surfaces capable of handling heavy traffic.
Our team is a professional interlock paving contractor in Aurora, and we will work with you to make a design that meets the client's needs and budget. Apart from taking pride in our work, our team guarantees that clients will be happy with the outcome. Our contractors are confident that clients will not find better backyard interlocking services in Aurora than aMaximum Construction.
Interlocking for Patio, Porch, Walkway
If you are looking to upgrade your home's exterior, consider installing an interlocking patio, porch, or walkway. aMaximun Construction offers professional interlock paving services in Aurora that property owners can trust. This is because it is a great way to increase the property's look and improve its value. Also, it can be a decent way to add functionality, including a porch that can be used as a dining or relaxing area.
We have a team of experienced professionals that work with clients to design and install a patio, porch, or walkway to perfectly suits their needs and tastes. They only use the highest quality materials to ensure the client's new addition will last for years to come. Our team will coordinate with clients to make a design that fits their needs and style. If you are looking for a patio, porch, or walkway interlocking in Aurora, call us at aMaximum Construction.
Interlocking Steps in Aurora
Interlock paving step services are a great way to improve the curb appeal of any property, and aMaximum Construction features a range of interlocking step options from which to choose, and our experienced team can assist clients in selecting the perfect style for their home.
We also offer custom design methods for property owners looking for interlocking steps in Aurora and surrounding areas. Since every contract we take on is different, our contractors know that each one requires special care to meet the clients' vision. At aMaximum Construction, we have professional designers who have extensive knowledge in interlock paving services. We are ready to can bring your dream home exterior to life with interlocking steps.
Flagstone Interlocking Service in Aurora
Flagstone interlocking services are a great option to improve your home's curb appeal. This is because they are natural stone that comes in a variety of colors and textures. Some of the common uses of flagstone may include creating a path, patio, or walkway.
Apart from other factors, depending on the specific needs of the customer, aMaximum Construction will find the best solution for the installation of the flagstone. We are experienced in installing the flagstone or natural stone on top of the screening or concrete base. The contractors make sure the sub-base has been prepared in the same way as the base for the interlocking pavers.
Retaining Wall Services in Aurora
If you want to create dramatic visual interest, define garden spaces, or improve drainage, consider aMaximum Construction's retaining wall services in Aurora. They look great and also require little maintenance. So for property owners looking for a way to boost the curb appeal of their home, services for retaining wall is a great place to start!
Our contractors are skilled in handling retaining walls in four different ways: gravity, piling, cantilever, and anchored walls. Our common methods of constructing retaining walls in landscaping include gravity retaining walls and cantilever retaining walls.
Interlock Repair Services in Aurora
Our interlock repair services can bring back life to any property in Aurora. Interlocking paving stone is expensive, and replacing these stones can be very expensive; this is why the best option is to have these stones replaced by repairing the interlock on most major areas of your home, including the patio, steps, retaining walls, pathways, and more.
Whether it's natural stone or flagstone, our interlock paving contractors are skilled in repairing all types of interlock and restoring the beauty of any property once more. Contact aMaximum Construction to revitalize your interlock pavers by repairing them today!
Pool Interlocking in Aurora
Pool interlock paving services are a wonderful way to add value to your property and, at the same time, increase its curb appeal. aMaximum Construction offers a range of pool interlock paving services for residents in the Aurora. After assisting clients in choosing the right materials and design for their space, our experienced team of contractors is skilled and trained to ensure that the job is done quickly and efficiently.
Enjoy the benefits of having your pool area surrounded by beautiful, smooth interlock paving. At aMaximum Construction, we are experts in all types of interlock paving services and can handle any design for your pool area to be amazing. Pool interlocking paving projects are a great investment that will appreciate in years to come. Feel free to contact us today at ( 437 ) 999 37 82 to learn more about our interlock paving services and get a free estimate on your project. 
Trusted Interlock Paving Contractor
aMaximum Construction is here to help you when you require a reliable interlocking paving contractor in Aurora. Apart from offering quality services at affordable prices, our expert contractors are always reliable and on time. In Aurora, we are well known for specializing in various types of interlocking services such as driveway interlocking, walkways, patio stones, backyard interlocking, and more. 
At the same time, we make sure only the highest quality materials and equipment are used, and our team of experts is knowledgeable and experienced in handling every type of interlocking paving service.
We understand that not all property owners know more about interlocking; this is why our specialists are always ready to explain the whole process to our clients and also to answer any questions they may have. Apart from trusting our services, we want our clients to be confident in our work. This is why we are always aiming to exceed their expectations. Also, for those looking for landscaping services, we are here to help as we offer landscaping services! We are a quality, affordable interlocking paving contractor in Aurora.
Get in touch with our team by emailing us at care@amaximumconstruction.com or give us a call on 437-999-3782, and will get back to you as soon as possible.
Our Interlocking Projects
Our Interlocking Services
What Our Clients Say About Us
[trustindex no-registration=google]
Other Services We Specialize in:
Servicing the following regions