Welcome To aMaximum Construction
Affordable Interlock Paving Contractor in East Gwillimbury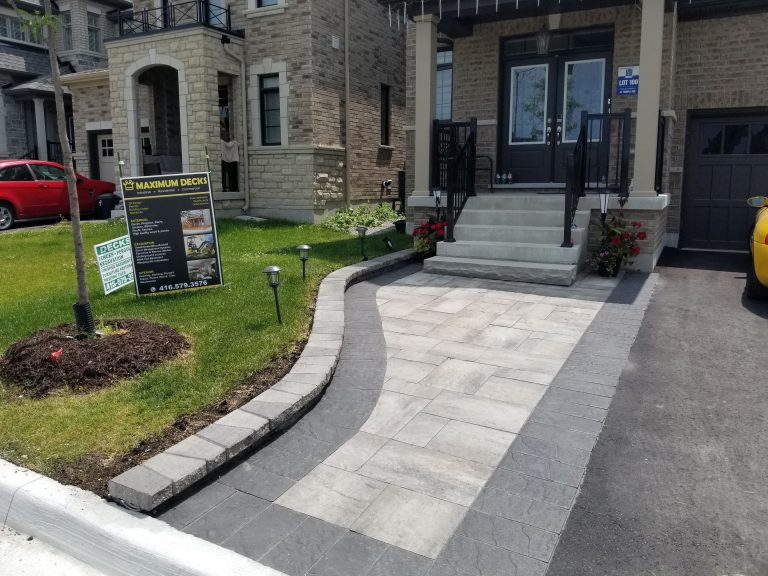 Affordable Interlocking Services in East Gwillimbury
You're looking for a new Interlocking contractor in East Gwillimbury, but you don't know where to start. 
It can be hard to find a reputable Interlocking services company that you can trust. There are so many companies out there. How do you know which one is right for you?
We're here to help. At aMaximum Construction Interlocking company in East Gwillimbury, we pride ourselves on our quality work and customer service. We've been serving the community for over 13 years, and we're dedicated to providing our clients with the best possible experience.
Driveway Interlocking, East Gwillimbury
There are several advantages to installing driveway interlocking. It looks fantastic, but it may also enhance the safety and security of your property. Interlocking material is designed to be long-lasting and sturdy, allowing you to enjoy its benefits for years to come. It's also simple to maintain – clean it with a broom or a hose as needed.
If you're searching for a new driveway solution, give us a call, and one of our experts will assist you in turning your driveway and raising your curb appeal. You won't be dissatisfied!
Interlocking pavers are durable and long-lasting, making them ideal for driveways that see a lot of use. They're also resistant to the elements, so they won't fracture or fade from exposure to the weather.
If you're searching for a beautiful and helpful driveway solution, interlocking is the way. The possibilities for design changes are endless, and we can use shapes and colors to generate any design you desire.
Why would you want to interlock your driveway?
There are several reasons to go with interlocking concrete. It's a potent and long-lasting substance that can handle weight and traffic. It is also resistant to the elements. Thus, it will not fade or fracture in extreme heat. Interlockingcrete is also a low-maintenance choice for your driveway.
It's simple to clean or hose down as needed, and it won't stain like other materials. Finally, interlocking can provide your property with a lot of curb appeal. There are limitless design options available, so you may customize the appearance of your home to suit your needs.
Whether you're searching for a traditional or modern design, interlocking may be able to assist you.
Contact us for a free consultation if you're searching for a new driveway solution. Our team of experts has years of experience with interlocking pavers and is fully qualified to help you choose the right ones for your home. We are a paver contractor in East Gwillimbury that specializes in interlock paving.
Interlocking landscaping services
We also provide a number of additional interlocking services to assist you in decorating your outside space. We can create everything from patios and walkways to retaining walls and outdoor kitchens. We'll collaborate with you to develop a design that meets your specific needs while staying within your budget.
Backyard Interlocking, East Gwillimbury
Your backyard is a part of your home and should be a place where you can unwind and enjoy the outdoors. Interlocking your yard is an excellent approach to creating a beautiful and functional space that you may enjoy for years to come. There are several advantages to backyard interconnection, including improved curb appeal, enhanced drainage, and increased safety.
Interlocking paving tiles are a sturdy and long-lasting material that can handle a lot of weight and foot traffic, making them ideal for patio patios and pathways. It is also weather-resistant so that it won't fade or crack in the heat. Interlocking is also an extremely low-maintenance option for your outside space. It is simple to sweep or wash down as needed, and it won't stain like other materials.
Interlocking backyard ideas
There are several options for interlocking backyard patterns. You may pick from several colors, forms, and designs to create the ideal aesthetic for your home. If you're not sure where to begin, our well-known interlocking business can assist you in selecting the ideal interlocking pavers for your yard.
Interlocking Patio, Porch, Walkway, East Gwillimbury
Pavers that are interconnected are known as interlocking pavers. This type of system is preferred for patios, walkways, and driveways since it is easy to set up and long-lasting. Interlocking pavers come in various shapes, sizes, colors, and textures to personalize your property's appearance.
In addition, interlocking is a low-maintenance choice for your outdoor area. It's simple to sweep or hose down as needed, and it won't get stained like other materials.
Consider interlocking pavers if you're searching for a new patio, porch, or walkway solution. Our certified professionals can assist you in selecting the appropriate pavers for your home and putting them in quickly and effectively.
We provide a free consultation so you can discover more about our services and begin working on your project.
Interlocking Steps, East Gwillimbury
Interlocking steps are a type of stair that are locked or snapped together. This system is popular for indoor and outdoor use since it is easy to install and highly durable. Interlocking stairs come in various forms, sizes, colors, and textures, so you can customize your home's appearance. Interlocking also has the advantage of being a low-maintenance alternative for your staircase.
We can help you create custom staircases that integrate your design in East Gwillimbury and the surrounding areas. We recognize that each contract we accept is unique, and we pay close attention to satisfying our clients' needs.
aMaximum Construction can help you bring your perfect house exterior to life with interlocking steps, thanks to the assistance of expert designers and extensive experience in interlocking.
Flagstone Interlocking, East Gwillimbury
Flagstone interlocking is a style of paving that employs flat, rectangular stones that are firmly connected without using mortar. This form of paving is ideal for driveways, patios, and walkways since it is incredibly long-lasting and has an earthy appearance. Flagstone interlocking is also low-maintenance and straightforward to maintain.
Flagstone interlocking is an excellent alternative for individuals looking for a more natural look. The stones may be found in various hues so that you can create your own unique aesthetic. Furthermore, flagstone interlocking is extremely robust and long-lasting to handle a lot of weight and foot traffic.
Retaining Walls in East Gwillimbury
A retaining wall is a structure that acts as a barrier against soil or rock slipping down a hill. It's usually constructed of concrete, stone, or wood. Retaining walls prevent soil erosion and provide level playing fields in yards and gardens.
Retaining walls may be an excellent improvement to your home if you have a sloping yard. They can assist in preventing soil erosion and provide level surfaces for planting or outdoor fun. Retaining walls may be built from various materials so that you can pick the most appropriate style for your property.
If you want to create a retaining wall on your land, our team of professionals can assist. We will analyze your demands and develop a unique solution that meets your needs.
Interlock Repair, East Gwillimbury
If you have an interlocking patio, driveway, or pathway, it's critical to get it fixed as soon as possible if it's damaged. Interlocking is a sturdy and long-lasting material, but it can crack and fracture with time.
We provide interlock repair services at aMaximum Construction to restore your interlocking to its original condition. We use the most up-to-date approaches and materials to fix your interlocking so that it may endure for a long time.
Call us now for a free consultation if you want interlock repair in East Gwillimbury. We'll assess the damage and give you an estimate for the repairs.
Pool Interlocking, East Gwillimbury
There are several advantages to having pool interlocking installed in East Gwillimbury. Pool interlocking is a form of paving that employs tiny, square pebbles that fit together tightly without mortar. Because it is very durable and has a non-slip surface, paving is popular among pools. Pool interlocking also requires little upkeep and upkeep.
Pool interlocking tiles are a wonderful alternative for people who want a long-lasting and safe surface around their pool. The stones come in various colors so that you may create an individual look for your area. Pool interlocking is also quite robust and lasting, so it can handle a lot of weight and usage.
Call us for a free estimate on pool interlocking if you're thinking about incorporating it into your house. We'll figure out what you want and create a bespoke solution to fulfill your demands.
Landscape design in East Gwillimbury
The practice of landscape design entails creating a plan for placement features on a piece of land. We may do this for residential and commercial sites, and it generally considers the property's layout, climate, type of flora, and other elements that will be utilized. A landscaping designer frequently collaborates with an architect or contractor to ensure that the plans are followed correctly.
Contact us now for a FREE consultation and let our experienced landscapers assist you in choosing the ideal plants and features to bring life to your home. We provide a complimentary consultation so you can learn more about our services and get started on your project.
Get in touch with our team by emailing us at care@amaximumconstruction.com or call us at (437) 999 37 82, and we will get back to you as soon as possible.
Our Interlocking Projects
Our Interlocking Services
What Our Clients Say About Us
Other Services We Specialize in:
Servicing the following regions